10 Sharia Business Ideas That Are Suitable for Implementation in Indonesia (2022)
With the majority of Muslims in Indonesia, it is not surprising that sharia business is one of the considerations.
Are you planning to start a business yourself? Sharia business may be your consideration!
What is Sharia Business?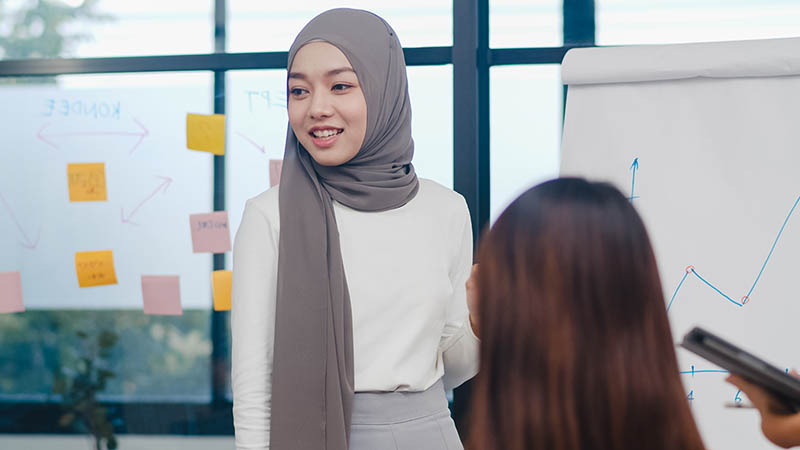 Sharia business is defined as an economic activity that has a legal basis for Islamic sharia. In order to be called a sharia business/business, you must apply certain principles in doing business. These principles are what distinguishes it from conventional business.
Some of the sharia business principles that must be applied include:
1. Products sold must be halal
The main sharia business principle is the halalness of the products sold in a business. What kind of goods are declared halal according to Islamic law?
Halal products are products that go through a series of halal production as well. This means that all production posts—from the supply of materials, management, processing of raw materials, to the presentation of products must be protected from things that are haram according to Islamic law.
In practice, the products sold are of course not only in the form of 'goods'. If the product you are selling is a service, then the services provided should not deviate from the rules of Islamic law either.
2. There is a clear contract
In short, the contract is defined as an agreement between the seller and the buyer. The meaning of this activity is that each party—both the seller and the buyer must agree on the sale and purchase activity.
Before the buying and selling process takes place, the seller and the buyer must both know the goods/services to be received, along with the price offered. In this case the seller must be open so that and convey as honestly as possible so that the buyer does not feel disadvantaged because of 'hidden' things.
3. Businesses must be free from maysir and gharar
What is meant by gharar and maysir in sharia business? The definition of gharar in buying and selling according to Islamic law is as follows:
Gharar. Also known as taghrir, this term has the meaning of 'deception, doubt, or harm to others in the buying and selling procedure'. Another definition states that in sharia buying and selling, gharar is defined as a buying and selling procedure that contains unclear goods being sold.
Maysir, maisir, or qimar, can be interpreted briefly as gambling or an act of speculation when buying and selling takes place.
4. Free from usury
The next sharia business principle is free from usury. The meaning of usury itself is taking advantage of the principal asset or capital. In Islam, usury is forbidden.
For example, if you lend money and take interest on the loan, then that action includes usury which is prohibited by Islam.
Well, if you are interested in starting a business but need to look for sharia business financing that is anti-usury, then you should choose a banking/financial institution that provides financing services in accordance with Islamic law as well. For example, you can contact Maybank Finance Indonesia, which provides business financing with a murabaha contract.
5. The buying and selling process must be done fairly
In running a sharia business, the buying and selling process that takes place in it must also be carried out with the principle of 'fair to both parties'. How does that mean?
This sharia business principle is applied with the aim that neither the seller nor the buyer will feel disadvantaged. Therefore, the buying and selling process that takes place in a business must be clear to both parties and based on a mutual agreement.
The term sharia business has long resonated in the Indonesian economy. Based on one of the articles published by the OJK, the emergence of this sharia business cannot be separated from the emergence of Islamic banking which began to spread around 1980-1990.
Since 1992 until now, Islamic banking has been proven to continue to progress both in terms of institutions and supporting infrastructure. The public's interest in sharia business has begun to emerge, although not much.
It is not only the Indonesian banking sector that is aggressively developing strategies to run its system based on Islamic law. Many financial institutions are also developing their wings to provide sharia business financing. Therefore, it is not surprising that there are more and more sharia businesses.
Currently, sharia business/business is still showing an increasing trend. According to academics from Airlangga University, this condition is increasingly supported by the declaration of halal tourism, halal industrial areas, and the national waqf movement which is fully supported by the government.
Even though it was affected by the pandemic, sharia businesses/businesses are expected to grow by 5.5% in 2024. This shows optimism as well as the public's high expectations for the government. Sharia business growth in Indonesia.
10 Profitable Sharia Businesses in Indonesia
Want to start a sharia business, but confused about what business you can do? Check out the following business ideas, come on!
1. Culinary business (restaurants, stalls, bistros, cafes, etc.)
Culinary business can be a profitable choice for sharia business in Indonesia. This business is even touted as a business that is constantly improving.
Moreover, the Minister of Finance of Indonesia, Sri Mulyani, said that the culinary industry contributed to the economic growth of the creative sector with the largest number in Indonesia.
Changes in people's lifestyles are the main driver of the increasingly promising culinary business. The lifestyle in question is the lifestyle of workers who are in the office until the evening—especially for employees who live in the capital city.
Well, of course you don't want to miss this Islamic business opportunity in Indonesia, right? Come on, immediately arrange a business plan for your culinary business!
2. Muslimah Salon
Compared to barbershops that can meet the demands of Muslim and non-Muslim customers, Muslimah salons exist and are only for Muslim women. This business is getting hotter with the increase in the use of the hijab among Indonesian Muslim women.
Even if you look at these business people, some of them have opened salon outlets in various cities in Indonesia. Some even offer partnership programs aka partnerships.
Well, if you are interested in doing this business, you can start from scratch or choose to join a partnership program. Although you can start a salon business from scratch, joining a partnership will make it easier for you to build a Muslim salon business. Especially if you have no experience at all in this field.
This partnership program is franchise; so you will buy the 'brand' for a certain period of time. The completeness of the salon business, including equipment and work mechanisms, providing training for workers, and various other salon equipment will also be notified to you.
3. Muslim fashion business
This business is indeed known as a business that tends to be 'seasonal' – or only sells at certain moments. However, with the large number of Muslims in the country, the prospect of this sharia business is quite promising.
This business will be more promising if you dare to stock various kinds of goods. For example, for Muslim women's fashion, you don't just provide a robe as the main item of your store. Other women's fashion items, such as headscarves, tunics, caftans, cufflinks, and socks can also be sold in your shop. You also should not forget men's Muslim fashion as another segment of the Muslim fashion business.
So, so that your store can become a one stop shopping place like that, the capital you need is also quite large. However, you don't need to be afraid of lack of capital, because sharia business financing from Maybank Finance Indonesia is always ready to be a solution for your business.
4. Hajj and Umrah Tour & Travel Business
Even though it was severely affected during the pandemic, this sharia business has the potential to rise again in prestige in Indonesia. How not, the implementation of the pilgrimage for Muslims from outside Saudi Arabia has been reopened.
With a large number of Muslims, the potential of this sharia tour & travel business has a large target market as well. Therefore, starting this business as soon as possible could be the right step, considering that Saudi Arabia plans to increase the quota of pilgrims to almost four times (30 million pilgrims / year) by 2030.
To deal with business competition between your travel services and other travel services, you can also open a side business in the form of a travel agent business for planes, trains, and ships. You can also offer travel packages to famous tourist spot countries around Saudi Arabia, for example the United Arab Emirates, Turkey, or Egypt.
5. Sharia fees
For those of you who have a large amount of 'cold money', or want to explore a property business based on Islamic law, building a sharia boarding house can be a brilliant option for you.
Sharia boarding business can be a source of passive income. You are required to pour large funds to build a property and look for residents of the boarding house that you will rent out. After that, all you have to do is enjoy the fruits of your labor.
Maybe for you this business requires a large cost. However, if you are good at it, this one can act as a long-term investment product with minimal risk.
So, what is the difference between sharia fees and ordinary boarding houses? In general, sharia boarding houses are only intended for residents who are Muslim and generally only apply to one gender (no mixed boarding, except for family boarding houses).
6. Sharia Ojek
The next sharia business idea in Indonesia is the sharia motorcycle taxi business. This sharia motorcycle taxi business has quite a lot of
run—and the trend has increased since the emergence of online motorcycle taxis.
Actually, this type of motorcycle taxi is not too much different when compared to conventional motorcycle taxis both online and offline. However, this business has one definite rule: female ojek drivers must serve female passengers or children who have not yet reached puberty (not necessarily girls).
As with sharia boarding houses, sharia motorcycle taxis only determine the category of passengers based on gender. Religion is not the main benchmark in serving passengers.
Until now, sharia motorcycle taxis have sprung up quite a lot in big cities in Indonesia. If your city still doesn't have a sharia motorcycle taxi, maybe this sharia business idea in Indonesia is waiting for you to realize it, right?
7. Studying the Koran
Want to start a business with small capital but are reluctant to take sharia business financing? One of the business ideas that you can realize is to become a tutor for the Koran. The target market for this business is quite broad and not just children, you know! Calculate, you can also save the reward with this one business.
To get started, you can become a tutor in the tutoring business that you create. Usually, this business expansion will be assisted by word of mouth. You can also invite your acquaintances or family to teach.
Not only teaching the Koran offline, you can also broaden your target audience by teaching the Koran online. Today, there are more and more online platforms that you can use to teach. Of course, you should take this as an opportunity to expand your business.
8. Islamic Daycare
Why is this business considered to have good prospects in the future? This is because more and more mothers are choosing to have a career. In addition, daycare is much needed because daycare resembles a combination of PAUD and daycare.
Of course, the concept of fusion of PAUD and daycare is applied in Islamic daycare. The difference is, in Islamic daycare, children are not only given the freedom to play—they are also given special education that helps them get to know Islam.
The trick is to teach Islam through songs, teach Arabic letters and the Koran, teach daily prayers, and of course how to pray.
Well, if you want to set up this business in your domicile, make sure the daycare that you set up is able to form the trust of parents to entrust their children to your place.
Therefore, the facilities, teaching staff, and of course the building you use must be of high quality. Of course to build it all, the capital you need is not small. If you need a capital injection, you can contact sharia business financing, for example Maybank Finance Indonesia.
9. Halal Catering
If you want to start a culinary business but don't want to play on a small scale, opening a halal catering business can be your business choice. With this business, you can target many target consumers, you know!
For example, you can target consumers who need food for weddings, seminars, akikah (aqiqah), circumcision, and other events. In fact, you can work with the company in terms of providing lunch for employees. More profitable, right?
So, so that the concept of halal catering can be even more bona fide, make sure your caterer has a halal certification from MUI. Maybe the bureaucracy will be a little complicated, but this certification can help you convince customers that your catering is really halal.
10. Halal Cosmetics
Actually, what is meant by halal cosmetics? In short, halal cosmetics are described as cosmetic products made with ingredients that are not haram in Islam, such as collagen, placenta extract, and elastin.
Interested in running a halal cosmetic business? You don't have to have your own brand, really. If your capital is still limited, you can start your business by selling halal cosmetic products which are currently spread on the market.